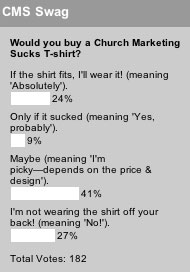 Last week we took a bit of a different approach with our weekly poll and asked if anyone would buy a Church Marketing Sucks T-shirt. We haven't actually made T-shirts yet, but we've definitely thought about it.
33% were pretty strongly in the pro T-shirt camp. 27% had no interest in wearing Church Marketing Sucks on their sleeve. And 41% said it depends on the price and the design. While it's not overwhelming support for a CMS T-shirt, it's enough to be encouraging (or maybe just whelming?). We probably won't roll out a T-shirt next week, but we'll keep it in mind.
This week we're asking about the Fallon 'Churchy church' ads. With only 25 votes it's still pretty early, but so far 44% don't like the ads.