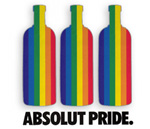 Driving into work yesterday, I was listening to NPR. In the Market Place segment, they were doing a story on the loyalty factor that gays and lesbians have toward brands. I am not quite sure where the source for this data came from, but a Google search always returns some interesting fodder. I'm sure the October 10 cover of Time magazine also had something to do with the context and timing of this.
This got me thinking about the Church. Apparently there is interest in gay-friendly churches from gays themselves, along with a listing of churches who are gay-friendly.
Jeff Garber, president of OpusComm Group, an agency specializing in "diverse communications," said "Loyalty is a direct offshoot of an emotional connection."
I assume for the most part that gays would accuse many churches for being closed-minded, hypocritical, unloving, and accusational. All emotionally-charged responses for sure, but not the emotions I think Garber is referring to in terms of loyalty building.
Shouldn't gay and lesbians feel most welcomed in the Church? In other words, shouldn't every church be gay-friendly, just like every church should be adulterer-friendly, liar-friendly—in short, sinner-friendly? Me-friendly? I realize conviction may play a part in diverting the connection, but that didn't stop the woman at the well from being in the presence of Jesus, not to mention compelled by his compassion, right?
I want to be a part of a church overflowing with grace and unrelenting in its pursuit of costly discipleship.