Books
Check out our growing collection of print and digital books: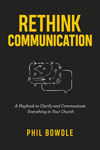 Rethink Communication: A Playbook to Clarify and Communicate Everything in Your Church by Phil Bowdle
The church doesn't have a message problem. The church is facing a message delivery problem
The old communication playbook no longer works. What worked before isn't working anymore. It's time to rethink communication and leverage the greatest opportunities we've ever had to communicate in the church.
In Rethink Communication, Phil Bowdle walks through the new reality for what attendance, engagement, and attention look like for the church. Then he offers a practical communication playbook you can use to communicate anything in your church—and actually connect. These practical tips and proven strategies will work regardless of size, staff, or budget.
Communication has been overlooked for far too long in the church. It's time for that to change.
It's time to rethink communication for the church. Learn more
Print: $13.99 Amazon (bulk orders available for multiple copies)
Digital: $9.99 Kindle / iBooks / Kobo / Nook / Digital Pack
---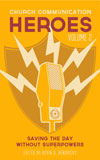 Church Communication Heroes Volume 2: Saving the Day Without Superpowers
Church communication a tough gig. Some days it feels like you need superpowers. Find courage and inspiration by looking back at heroes who faced similar odds and had the same human limitations we do. Heroes such as civil rights pioneer Ida B. Wells or the creative genius Albert Einstein.
This ebook chronicles 15 different heroes—writers, musicians, theologians, innovators, even a pirate—who can encourage us in our darkest days and challenge us to do our greatest work for the greatest story ever told. Learn more
Digital: Free download
---

You've Got This: A Pep Talk for Church Communicators by Kelley Hartnett
We get it: Church communication can be a challenge. You feel overworked, overwhelmed, and overloaded. More than the bulletins, goofs, and calendars, it's the stuff behind the stuff that's really taxing: unmet expectations, perfection paranoia, and demoralizing doubt.
But you're not alone. You're telling the greatest story in the world, and you can do this.
In her honest and self-deprecating style, Kelley Hartnett offers a pep talk that's part hug and part fist-bump. Learn more
Print: $13.99 Amazon
Digital: $9.99 Kindle / iBooks / Kobo / Nook
---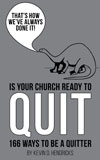 That's How We've Always Done It: Is Your Church Ready to Quit? 166 Ways to Be a Quitter by Kevin D. Hendricks
Imagine the opportunities our churches are missing out on because we're too busy doing what we've always done. What can our churches quit? We've got 166 ideas. It's not a checklist to work through, but a list of [sometimes contradictory] suggestions to help your church evaluate what you're doing. This is permission to stop doing something that's no longer working. Our churches are busy. We've got burned out staff members and over-committed volunteers. We've got members too busy to show up every week and visitors wondering if we notice them. Our churches have a few things we could stand to quit. Let's start with "that's how we've always done it." Learn more
Digital: $2.99 Kindle
---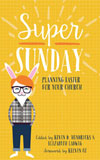 Super Sunday: Planning Easter for Your Church
Easter is the biggest Sunday of the year—is your church ready? Forget the ham or lamb debate, church communicators need to plan, promote and keep their sanity. With more than a dozen chapters addressing how to start planning earlier, engaging with the themes of Lent, bringing guests back after Easter and more, plus real Easter stories from churches, this is practical backup for church communicators. Learn more
Print: $9.99 Amazon
Digital: $6.99 Kindle | Nook |Kobo | iBookstore
---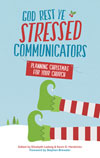 God Rest Ye Stressed Communicators: Planning Christmas for Your Church
Christmas is coming—break out the eggnog and candy canes! But for church communicators, this isn't always a season of peace on earth and goodwill toward men. Christmas often means pulling out all the stops—adorable pageants, packed pews, beloved music. Not to mention planning it all on a very limited budget. Drawing on the expertise of more than a dozen church communicators, this is one gift you'll definitely want to open early. Learn more
Print: $9.99 Amazon
Digital: $6.99 Kindle | Nook | Kobo | iBookstore
---

Unwelcome: 50 Ways Churches Drive First-Time Visitors Away by Jonathan Malm
Walking into a church for the first time can be scary. Are you making your first-time guests feel welcome? Or are you driving them away—unintentionally—with bad signage, reserved seating, clunky communication and more? Learn more
Print: $13.99 Amazon
Digital: $9.99 Kindle | Kobo | Nook | iBookstore
---
Getting Started in Church Communication Series
Let's get started in church communication. This series covers writing, websites and landing a job, three volumes available separately or collected in one handy ebook. Each volume is full of practical tips and expert insights, a how-to guide that can get beginners going and help inspire and refresh the pros.
Get your church started today. Learn more
Copy Matters – The written word needs to be written well.
Digital: $2.99 Kindle | Kobo | Nook | iBookstore
Landing a Job – Your new job is waiting.
Digital: $2.99 Kindle | Kobo | Nook | iBookstore
Web Basics – Here's to church websites that wow.
Digital: $2.99 Kindle | Kobo | Nook | iBookstore
3-in-1 – All three ebooks together in one handy collection (save $1).
Digital: $7.99 Kindle | Kobo | Nook | iBookstore
---
Outspoken: Conversations on Church Communication
Print: $13.99 Amazon
Digital: $4.99 Kindle
Drawing on the wisdom and insight from over 60 leading experts in various fields of church communication, this book provides a comprehensive resource for church leaders sharing how the church can leverage new media to effectively connect people with the gospel. It's time to be outspoken! Learn more
---
Dangerous: A Go-to Guide for Church Communication
Print: $6.99 Amazon
Digital: $2.99 Kindle | Kobo | Nook | iBookstore
Is your church ready to be dangerous? This booklet is written by the reinforcements, men and women in the trenches of church communication. It features 19 essays covering basic strategy and practical, real world tips for churches that want to be dangerous. Learn more
---
Church Communication Heroes Volume 1: Lessons From Those Who Have Gone Before
Digital: $2.99 Kindle | Kobo | Nook | iBookstore
While church communicators struggle with the tools of the 21st century, there's comfort in knowing we're not alone. There are heroes who have walked this path before. Revolutionaries, rebels and reformers who can serve as our examples. Find inspiration in the stories of these 15 communicators. Learn more