Church Communicator Burnout
"If you're burnt out, it likely means you've been 'burning' for a long time." –Erin Williams
Church communicator burnout is a serious issue. We do important work—sharing the gospel—but that doesn't mean we can work ourselves to death. We have to take care of ourselves. Communication is a marathon, not a sprint. So learn more about church communicator burnout and how to take better care of yourself.
No Smoke Without Fire
It happens. More and more responsibilities pile on, your work day extends and you begin to wonder why you even started this job in the first place. If you're smelling smoke, then slow down and read some of the prevention tips we've accumulated for you:
Boundaries
You're Not Perfect
This isn't a shock to you. So don't keep living as if it is.
Spiritual Introspection
Burning out isn't always about late hours at the office—it's often about how you're doing on the inside. Are you seeing any warning signs in your life?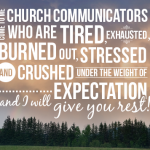 Here's a graphic of Adam's words, created by Chuck Scoggins, ready for you to share:
When You Get Burned
But sometimes, you get burned. What can you do when that happens?
Find a safe community
Practice grace and mercy
Choose to trust
Refocus your identity
Take a step back
And when you're ready, you look back to see what you learned, and you move on.
Church Communicator Burnout Ends Now
Don't become another victim of church communicator burnout. Don't wait until you see the signs of burnout to do something about it. Resolve to take better care of yourself today. In this podcast, you can learn how to practice self-care all year long: