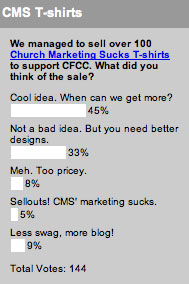 Last week we asked about our Church Marketing Sucks T-shirt sale. We managed to sell over 100 shirts and for everyone who ordered one, they should be well on their way. Enjoy.
So we asked what everyone thought of the sale. 45% liked the idea and want to know when we can do more. That's the magic question. 33% said it wasn't a bad idea, but they want better designs. We'll see what we can do. 9% want more blogging and less swag. Ah, come on–can't we have both? 8% thought the shirts were too pricey. Meh to you too. And 5% thought we were sellouts. Well, you can't win them all.
Thanks to everyone who bought a shirt and helped support CFCC and CMS.
This week it's our Christmas poll: What do you want for Christmas assuming you could pick from stuff we recently blogged about?