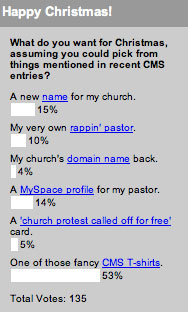 We know you wanted an official Red Ryder, carbine action, 200 shot, range model air rifle, with a compass in the stock and a thing that tells time for Christmas, but we all know you'll shoot your eye out. How about a nice football? Or maybe something mentioned in recent Church Marketing Sucks blog entries?
Overwhelming, you wanted a fancy CMS T-shirt. If you ordered one you should have received it by now and you should be making all your friends jealous. Next up was a new name for your church, followed closely by a MySpace profile for your pastor. Then your very own rappin' pastor, a 'church protest called off for free' card and getting your church's domain name back.
We hope all your wildest Christmas dreams came true. This week we're asking about your church marketing hopes and dreams for 2007.