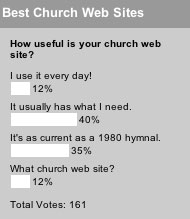 Last week we asked about the usefulness of church web sites. The results didn't change much from earlier in the week when we had matching responses on either extreme: 12% say they use their church web site every day and 12% ask "What church web site?"
35% say their church's web site is as current as a 1980 hymnal. Ouch. On the plus side, 40% of churches seem to be doing their job, offering visitors what they need. It leaves the question of whether or not church web sites are providing what people want.
This week we're asking a slightly different question, broaching the topic of Church Marketing Sucks swag: Would you buy a Church Marketing Sucks T-shirt? With 33 votes in we've got 24% saying absolutely, 24% giving an outright no, and 48% sitting in the middle with maybe, depending on the design and price.