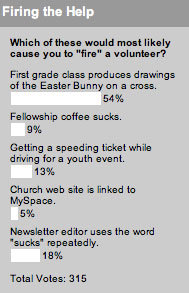 Last week we asked about that tricky situation of disposing of volunteer help that's not so helpful. What would push you over the edge and ask a volunteer to stop volunteering? 54% thought drawings of Easter Bunnies on the cross in the first grade Sunday School class would be worthy of a firing. The newsletter editor using the word "sucks" repeatedly received the next highest votes with 18%, which isn't very encouraging. Less encouraging is the 13% who wanted to boot a volunteer driver for racking up a speeding ticket while driving for a youth event.
Confession time: That was me.
This week we ask how churches are using the time-honored method of phone book advertising.