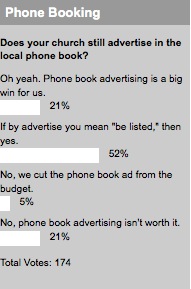 According to Wikipedia, the first telephone book was issued in 1878. So can an idea from 130 years ago still help your church today?
Almost a quarter of you say yes. You still advertise in the local phone book, and it is a big win for you. But the same number of you say that phone book advertising just isn't worth it for you. Not enough people are seeing you in your local phone book to justify the cost.
Over half of you don't bother buying ads in the local phone book, but you are proud to be listed there, right between Jane Doe and Joe Schmo. Probably even those of you who purposely don't advertise are still listed–seems like a silly marketing move to go out of your way to be unlisted in your local area.
Phone book success story? Or a good reason to file to be unlisted? Let us know in the comments.
This week, we'd like to know, what do you think is most important in your marketing?