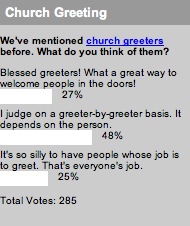 Some people hate to love them; other people love to hate them; still others could care less. Church greeters.
Honestly, to me, it seems like a pretty tough gig. You have to stand out there at the mercy of whatever weather blows in the door, be happy to see each and every person and deal with awkward "I forgot your name" and "Have we ever met?" moments. But apparently some people aren't scared of any of that stuff. At the very least, if you love greeting, you have some job security.
27% of you absolutely love church greeters. Maybe you admire them, are grateful for them or love being one yourself. Either way, it's a Sunday highlight for you to be door-greeted by a smiling face.
48% of you aren't totally sold on greeters, and you judge on a greeter-by-greeter basis. Hilarious greeting experience in the comments would be greatly appreciated!
A final 25% of you don't really get greeting. You think it's a bad idea to have people who are paid to be professional smile, wave and handshakers. Yeah, you probably wear jeans to church and don't comb your hair, either.
This week, throw your opinion in the ring as we ask, would you hire someone who isn't a Christian to help out with your church marketing efforts?