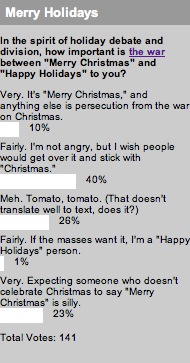 It was a scary question to even consider asking. Would there be riots? Would Fox News cover our piece? Worries aside, we advanced boldly, asking that Christmas question: How important is the war between "Merry Christmas" and "Happy Holidays" to you?
Semi-surprisingly, only 10% of you call it "very important." You made your list, checked it twice, and boycotted anyone who used the "H" word in their holiday Christmas marketing.
The clear winner are the 40% who think it's fairly important, but only insofar as we should stand up to the "holidays" crusaders for being overly-sensitive and ruining all of the good holiday fun.
26% of you are feeling pretty "Meh" about it. You don't care what it's called so long as Santa backs his sleigh up to your chimney with a bag full of presents. Or perhaps you're a little bit truer about things, and you don't care what its called so long as we've celebrating the incarnation of Christ appropriately.
Next up are the rebellious ones. The bold 1% who do as the Romans do and think we should say, "Happy Holidays" because everyone else is doing it. You know what your mother would say about that…
Finally, 23% of you think we should be proactive about "Happy Holidays." Give it attention, cheer for it and hope it finds a nice, comfortable home in mainstream usage. After all, wouldn't we be offended if someone made us celebrate the birth of someone we didn't believe in?
Opinions might be spirited and strong, so try to keep good holiday cheer as you discuss this further in the comments. (Or, everyone might be checked out for New Year's.)
And while you're commenting, make sure to weigh in on this week's poll: What do you think is the best advice Church Marketing Sucks offered in 2009?
Oh, and Happy… uh, Christmas!