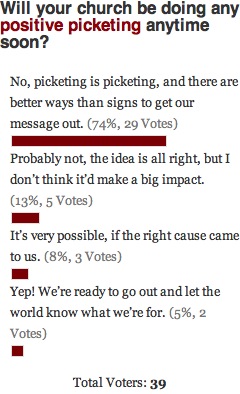 In this week's poll, we tackled the issue of positive picketing. There was plenty of love for the idea in the comments of the original post, but was that representative of your attitude?
It seems not.
For the second week in a row, we had a poll result runaway. Last week, 73% of you were outraged by Rod Parsley's million dollar airplane ask. This week, 74% of those who responded said they won't be doing any positive picketing. For them, picketing is a shallow way to get your message across, regardless whether it's positive or negative.
The next biggest group of you are barely more enthusiastic. That's 13% who think the idea is all right, but you don't imagine it having a big impact in your community.
Finally, 13% of folks who responded in this week's poll like the idea. 8% of that group are waiting for a great cause to don their wooden sticks and posterboard, while another 5% are already lacing up your walking shoes to take to your local street corner. So let's hear it, brave 5%, what are you going to be picketing in support of?
When you get back from the picket lines, make sure to weigh in on this week's poll: Where do you stand on church-front marquees?