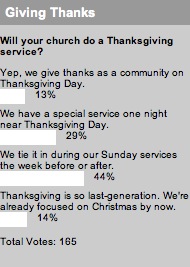 Happy Thanksgiving! It's only a few days past, but we have the breakdown of how you choose to celebrate at your church.
44% of you tie it in to your Sunday services the week before or after. I get a sense some of those folks just say "Oh yeah, by the way, Happy Thanksgiving!" Others probably go all out and remind folks to be thankful. Either way, you Thanksgivingify your services.
Next up, 29% of you have a special service near that special Thursday. What kind of stuff happens at these special service? I have a tender spot in my heart for this holiday, so these services sound great to me.
14% of you are already on Christmas. You're too busy decorating your tree and donning your Santa hats to think about turkeys and football. Hey, that's good, we won't come down on you for putting extra attention on the birth of Christ.
The smallest number of you, 13%, get together to give thanks on the fourth Thursday of November. (Or the second Monday of October for our Canadian friends.) Are there any bigger churches out there who get together on Thanksgiving Day?
I guess I forgot an option. My church gives thanks by sleeping in the weekend of Thanksgiving. Sorry for anyone we alienated by leaving that one out.
From Church Marketing Sucks to you, we're super thankful to have you guys supporting our mission and working alongside us. It's really an honor for us to do what we do, and we hope we're moving towards working ourselves out of jobs.
As a special thank you this Thanksgiving, we've got…you guessed it. A new poll! This week, we ask, Would you be there for polka mass?