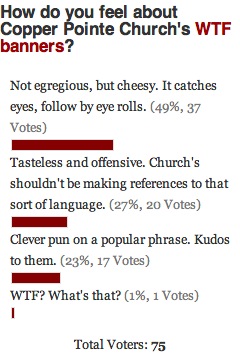 Copper Pointe Church's WTF banners created a lot of chatter in the comments, ranging from "sickening" to "SMART." But with all the differing opinions, we thought it was time to poll you and see how our audience felt about the banners. Here are your responses:
Nearly half of you weren't offended, but you just think it's a lame gimmick. If you saw these banners, they wouldn't get much more than an eye roll from you.
The next biggest chunk of you, 27%, weren't amused either. But you go further, to say that it's downright offensive, crass and crude. You don't like churches even implying that sort of language, and if you saw the banners, you'd make a beeline in the other direction.
Finally are the 23% of you who found the stunt clever and cute. You think it's great that they're trying to stay relevant, even if it comes with a bit of irreverence. Oh, we forgot! There are also 1% of you that have no idea what WTF means. Be forewarned if you're easily offended, but since you asked, here is Wikipedia's definition.
This week, we're going to talk big money. We want to know: Which church ask did you find the most outlandish? A million dollar airplane? A $5 million bridge? Something else? Visit our home page to let your voice be heard.