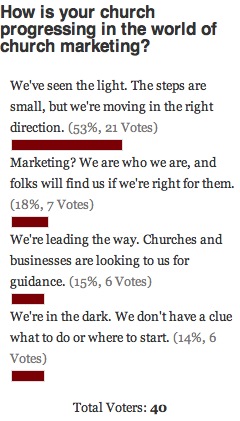 Every now and then we just like to check in and see how your churches are doing in the wide world of church marketing. With everything changing so quickly, it can feel overwhelming at times. But the news from your end is good. Check out these numbers:
53% of your churches have seen the light, and you're taking small steps in the right direction. You're not freaking out or pulling your hair out with information overload, but you're trying to make wise decisions as you spread the gospel in your community. Hip, hip, hooray!
The next biggest slice? A whole 18% of you are just doing your own thing, being who you are, and trusting the right people will find you in due time. It's a bit of an anti-strategy, but we'd love to hear your stories of how the word has gotten out about your churches, if at all.
Another 15% of respondents are part of churches that are leading the way in church marketing. You're firestarters. Keep hanging around here and contacting us with your stories, so we can spread your success stories.
Finally, 14% of you are still in the dark on all things marketing. We'd love to take this as an opportunity for you to let us know how we can help, so drop your advice or plea in the comments. And don't forget to check out our read this first section for some great starting advice.
This week, we're visiting a hot-button issue of late, so click through to let us know: How do you feel about Copper Pointe Church's WTF banners?