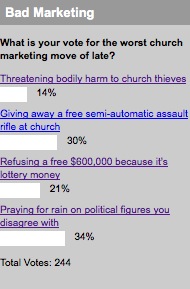 We've seen some pretty crappy church marketing lately (not to say we haven't seen some great ideas as well). But which move was the worst of the worst of the worst? Only you could decide, and here's what you had to say:
In a surprise move, you selected the most-hated church marketing move as the Focus on the Family commentator who is praying for rain on Obama's speech at the Democratic National Convention. Given their recent history and rocky relationship, praying for rain seems like a compliment compared to what many evangelicals would wish on a Democratic candidate.
My personal pick for the worst marketing move would have to be giving away a free semi-automatic assault rifle at church. And 30% of you agree. It seems that there is nothing positive that can come out of someone walking out of church with a shiny new rifle, provided by your church.
Another 1 in 5 were awestruck by a church who would refuse $600,000 from a lottery winner. For many of you, that's about $600,000 more than your current marketing budget, so it certainly seems like a pretty egregious marketing error. Oh yeah, and there's the "If you're bad, we don't want your money" undertone.
The smallest group of you were most repulsed by Gary Lamb's violent outburst towards church trailer thieves. Judging by the large number of "I can't believe that!" comments on our original entry, it seemed this option would get a big spike. But lo and behold, it sits at the bottom of our responses, with only 14% of the responses.
Speaking of stolen church trailers, this week's poll revolves around that issue. Who do you agree with? Are you a church thief hugger (like Kinetic Church or Oconee Baptist) or knee-breaker (like Revolution Church)? RSS readers, be sure to click through to the site to make sure your vote gets counted.