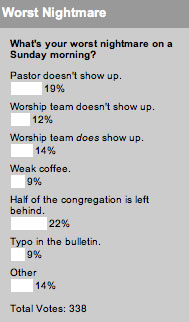 OK, so we're a little behind on the poll results this week. Sorry. I was in Los Angeles for a little business meeting/vacation (including a visit with a Darth Vader himself!) and didn't get back until last night. Now I need a vacation from my vacation.
But the polls must go on!
Last week we asked about your worst nightmare on a Sunday morning. And the number one answer was having half the congregation left behind. Not far behind that was having the pastor not show up.
We also let you write in your own answer, which 14% chose to do. One answer that appeared several times in various forms was not having God show up on Sunday morning. Yes, that would be quite the nightmare, but taking the poll seriously just doesn't get the same laughs. Like this response: "Ex-stripper guest speaker turns out to not be so 'ex'" Now that's funny!
This week we asked about that favorite October holiday, Halloween (OK, how many were thinking Columbus Day?).