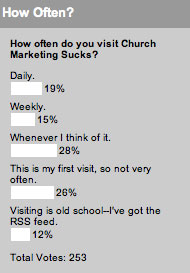 Last week we asked how often you visit Church Marketing Sucks. The most common response was 'whenever I think of it' with 28%. Those first timers came in next at 26% (a slightly lower showing for first timers this week; last week they had 33%). 19% of our visitors stop in daily and 15% come in weekly.
And coming in last are the 12% who use the RSS feed. Which either means that our audience isn't as tech savvy as we like to think, or the number is low because those RSS folks don't bother to visit the site and therefore don't bother to vote in our polls. (And if you're not familiar with RSS, Tony Morgan does a good job describing how it can make your life easier.)
This week we're asking what's broken in your church. This week's question will be especially fun because for the first time ever we have a spot in the poll where you can write in your own answer. No longer will you be bound by the choices we dictate (at least for this week). The software only displays the total "Other" votes in the results, so you'll have to wait until next week's results to see what choices people decided to write in.