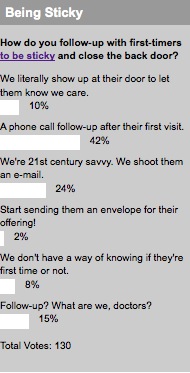 A while ago, we talked about the book Sticky Church, but we never really answered what churches are practically doing to "close the back door" in the context of guests. So last week's poll was your chance to give us some feedback.
78% of you are interacting with first-timers in a purposeful manner after their visit. We'll run you down first. The majority of you are following up with a phone call. Hopefully this is a personal, human call, not any sort of robo-call with robo-pastor's voice. That's just scary. Another third of those that follow up are doing so via e-mail. It's less obtrusive and easier on your staff, so I could see why you'd go this route. The last two slivers are showing up at doors or sending offering envelopes, which could be a nice, abrasive kick-in-the-pants on their way out the back door.
Our final 23% (which astonishingly adds up to 101%–we don't write the programs, we just type in them.) don't follow up in a specific way. Most of you just plain don't follow up. And a portion of you have no way of knowing whether they're first-time visitors or not. Perhaps you like to let your Sunday be exciting enough that it's sticky, or maybe you just need to get on the ball.
This week, we turn from keeping folks around to reaching new ones as we ask: Where has your church tried their hand at advertising?