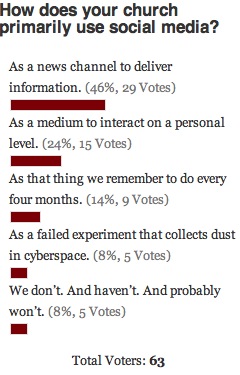 It seems everyone has an opinion on how social media ought to be used. Some are staunchly in the camp of "social media isn't social without conversations," while others view it a way to deliver information to places people are currently congregating. But how are churches using social media? Well, here is what your churches are up to:
46% of you primarily use social media as a pipeline for delivery of news and updates. You're feeding in RSS feeds or making updates as bulletins to anyone who follows you. At the opposite end of the spectrum are the surprisingly-low 24% of you that use social media primarily as a medium to interact personally. You're getting feedback, sharing encouragement and interacting with guests and members on a regular basis.
Next up: 8% of you have social media accounts, but they exist only as a reminder of a more promising time when you believed they'd change the world. For one reason or another, they're now just broken-down properties in cyberspace. Another 14% are just a step above, having accounts that you remember to post to once every few months.
And the last little group? That'd be the 8% still holding out on social media, with no plans to use it in the near future. We'd love to hear a little more about why you're taking this position.