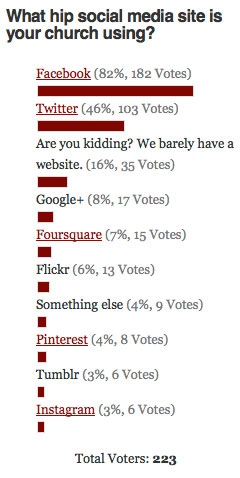 We recently asked the question, What hip social media site is your church using?
No surprise that Facebook topped the list, though the fact that 82% of churches use Facebook is pretty amazing. Another 46% of churches are using Twitter, which probably reflects our audience more than anything.
Next comes the 16% of churches that can barely manage a website. That's a little more realistic.
Then we've got a host of single digit responses, including Google+ at 8%, Foursquare at 7%, Flickr at 6%, Pinterest at 4% and Tumblr and Instagram both at 3%.
So there are a lot of churches using the big social media sites and then a few churches experimenting with other options.
What's your church using?