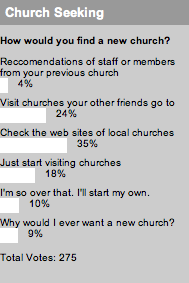 Two weeks ago we asked you why you would ever leave your church. And last week, we continued that with asking how you would go about finding a new church. Here's what you said:
Bringing up the rear, 4% of you would seek a recommendation from staff or members from your previous church. I can see how this number is so small, it'd be a tough thing to do. Slightly more of you, 9% would never want a new church, so the question is irrelevant.
10% of you are tired of trying to find just the right church, so you'll make your own. Kudos to you on taking initiative, but I'd like to hear more about your thoughts and motives. 18% would just start randomly visiting churches. I've tried this myself and ended up in some extremely weird situations.
Coming in second place are the 24% of you who would visit the churches that your friends go to. And in the lead, 35% of you would check out the web site of local churches.
Churches, did you hear that? The number one way people find your church, according to a recent Church Marketing Sucks study, is through your web site. Don't overlook the importance of it.
So we've left church and found a new church, and this week we ask what would make you stick around at that new church. Remember to keep voting this week, and let us know in the comments interesting stories about finding a church.