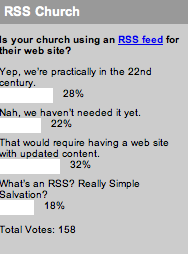 Last week, we asked you if your church was using an RSS feed for their web site. We've harped on RSS for your church before, and we were hoping that since then, more of your churches would have started providing RSS feeds.
28% of you are using RSS feeds for your sites. So about three of every ten churches provide a feed for their site. What sorts of things do you use this feed for? Messages? Events? Prayer Requests? Something else?
22% of you "haven't needed it yet." From the standpoint of someone who doesn't visit web sites if they can help it, I read that as 22% of you don't want to keep me in the loop.
Another 32% of you don't have an RSS feed because you don't update your web site. Hey, Moses didn't regularly update the stone tablets, so maybe you guys are doing the right thing on that.
The final 18% of you are a little confused as to this whole RSS thing. You've seen that orange button before. You've heard me call out web sites that don't have it (I'm looking at you, Barna). My best advice for you is to check out the Wikipedia article on RSS.
Before you go check out that article or update your church's web content, head over and let us know where your church most concentrates its marketing efforts. The new poll is up now.