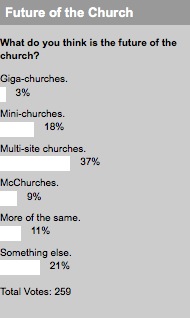 The future of the church. It's a huge topic, and it's one we need to be ready for. But what is that future?
Well, 37% of you think multi-site churches are the future. More sites, more impact, yeah? Probably the convenience, pooled resources and leadership of multi-site churches lead you to this conclusion (and maybe The Multi-Site Church Revolution). And another 18% of you are looking the opposite direction. Mini-churches are the future in your eyes.
11% of you think there's no change in store. It's 379 more years of the same thing — some mega-churches, some mini-churches, some middle-churches. 9% of you think McChurches are the future. $1 double cheeseburgers for visitors and McSermons for everyone.
And the lonely group of you are the 3% who thing mega-churches will multiply thousand-fold to become giga-churches. Just imagine, showing up to find 20,000,000 friends for the 9:30 a.m. service. Hopefully, we will also see a revolution in church architecture and parking lot infrastructure.
There's another 21% of you out there who say "something else." So what is that something else? House churches? Internet churches? Twitter churches?
Click through your RSS reader to let us know what your "something else" is, and to give us feedback on this week's question–what is your vote for the worst church marketing move of late?