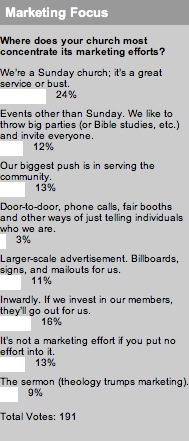 Last week we asked you where your church concentrates its marketing efforts the most. The most popular place to concentrate efforts was, not surprisingly, Sunday mornings. 24% of your churches place the most marketing emphasis there.
After that, there's a near tie. The second most popular focus was on your members. After all, if you concentrate on them, they'll go out and market for you. Right after that, the churches of our readers put the most effort into serving the community. Having events other than Sunday and large-scale marketing round out that group.
9% of you concentrate most on the sermon because theology trumps marketing. Only 3% of you are engaged in door-to-door marketing or other way to get in touch with individuals just to spread the word about you. I'm saving 13% of you for last, and that's you guys who aren't putting any effort into marketing. Well, we're glad to have you here.
This week, let's talk about church announcements. How do you think they should be done? Let us know in the poll to the right.