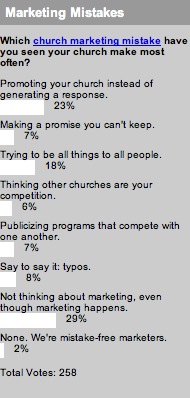 We all make mistakes. Well, some more than others. And usually it's other people making them rather than ourselves. But still, there are mistakes. Especially in church marketing. Here's what you said when we asked what mistake you've seen your church make most frequently.
At the top, 29% of your churches don't think about marketing, even though marketing exists. Spread the word to other folks in your church!
Second on the list at 23% is "promoting your church rather than generating a response." You're so busy promoting yourselves that you don't do anything that makes people talk about you. Viral marketing trumps self-marketing. Grasp this and maybe one day your church can turn itself into a verb, like Google.
Another 18% of you try to be all things to all people. You have seven services–postmodern, liturgical, contemporary, classical, early, Internet and Second Life. It hasn't taken off yet, but you're trusting it will. Someday.
8% of you are victim of typos. Ahhhh! Just run it by someone else, twice. Tied at 7% we have churches who make promises they can't keep (big trust-breaker) and publicizing competing programs. Folks have to choose discipleship or fellowship, and it leaves them a little overwhelmed.
6% of you think other churches are your competition, and 2% of you don't make mistakes. If that latter group could get in touch with us about some guest blogger pieces, that would be good.
This week, we'll be pretending. If you could give your church leaders a marketing-related gift for Christmas, what would it be?