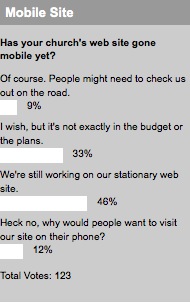 More and more churches have been going mobile with their web sites. It seems that even kitchen spatulas have built-in wifi now, and just about everyone is browsing the web while they drive or talk to friends. So has your church gone mobile yet?
The biggest chunk of you are still working on your stationary web site, so you can't get too much done on your mobile version. There's nothing wrong with that, and a stationary site is definitely more important. If you don't give a rip about your stationary site or a mobile site, you have some issues. There's a third of you who do care and wish you could get working on a mobile site, but it's not in the budget or plans.
Two slivers of you are on the opposite ends of the spectrum–either agreeing that being available on the road is critical or that it's hogwash. You folks let us know in the comments either how you've seen mobile sites working or why you think they stink.
This week, let us know: Do you think burnout among church workers is a problem? (As addressed in Anne Jackson's Mad Church Disease)