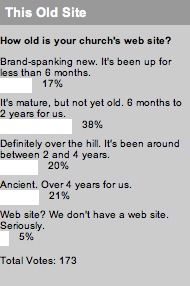 Our church web site used to be the sort of thing you mumbled. And you only mumbled after you unsuccessfully tried to "accidentally" give a wrong address at least twice. Now that we've revamped things, it's a bit easier to spit out our URL. But how about you guys–how old is your church site?
38% of you have church sites that are in their prime. They're not brand new, but they're not over-the-hill either. That's good news.
But the next 21% of you aren't so fortunate. Your church site is over 4 years old. You're hoping to upgrade soon and sell the old one to a museum. While another 20% of you are knocking on that group's door with a site that's 2-4 years old.
Just a hair less of you, 17%, have a site that you've recently pulled the wrapper off. It still has that new site smell, and you're loving it right now.
Then, a tiny slice of you don't even have a site. That's 5% of you, and I'm sure some of you are members of a house church or no church. Those of you in a church with no site, what's the rub? Is a site in your future plans at all?
And for this week's poll, we want to know: People usually pick a church for one of three big reasons. Which is most important to you?