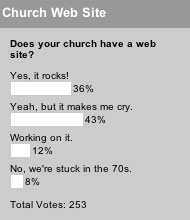 Last week's poll asked if your church had a web site, and 79% of churches did have a web site. Though that sounds like good news, 43% of people said their church's web site makes them cry (earlier in the week that number was higher, not that it means anything). Not exactly good news if more than half the church web sites out there are that cringe-worthy.
On the plus side, of the 22% of churches without web sites, more than half are currently working on a web site. Let's just hope these new additions don't produce more tears.
Check out this week's poll asking if 'sucks' is a swear word. And yes, we do realize that our audience will probably skew the results of that one.