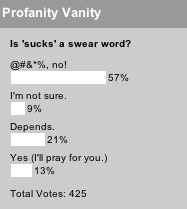 The results are in for last week's poll asking if 'sucks' is a swear word. 57% said "@#*%, no!" which means if a simple majority decided morality we'd be good to go.
13% said "Yes (I'll pray for you.)" which seems like a high number to dislike the word and still visit our site, though maybe they just think we need prayer. And we'll take that. My hat goes off to anyone willing to keep coming back to our site even if they won't repeat our name (to which we constantly point people to our rationale for using sucks and to our alternate url).
30% took the wishy-washy "I'm not sure"/"Depends" approach, which probably means something.
Tune in this week for a poll on church size: Is your church mega, mini or medium? (Or as 11% of survey-takers have said so far, "Me? Go to church? Ha!")