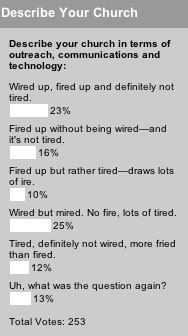 Last week we asked you to describe your church in terms of outreach, communications and technology. 25% were wired but it didn't seem to be doing any good. 23%, however, were wired and fired up. 16% didn't need to be wired to be fired up, and 12% needed a hug.
And 13% just scratched their heads.
It's a fairly even spread on this one (if you can decipher my wording), which makes me think our audience includes people and churches in all kinds of different situations. And that's cool.
This week we ask what your role is in church. Are you on the bench or on the staff? Are you a volunteer or an outsider?