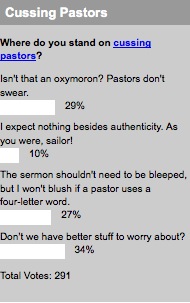 Ed Young's rant about cussing pastors got you guys all fired up. So we figured it was only appropriate to try and get our finger on the pulse of the Church Marketing Sucks community, via a poll.
It looks like the biggest group of you are tired of hearing about all of this stuff. Over a third of you think we ought to be worrying about more important things rather than the diction of authority figures.
Slightly less of you, 29%, think a pastor ought to keep it clean. "Cussing" should never be a word to describe pastors. And another 27% of you think that it should stay as clean as possible, but the occasional, decorative curse isn't so bad.
So who does that leave in the minority? Those of you who love some four-letter words and expect the same from your pastor. You think pastors should be able to use whatever word is best in the situation, regardless of whether children's ears need to be covered.
This week, we'll revisit another post: What do you think of "I Am/We Are [Insert Denomination Here]" ad campaigns?