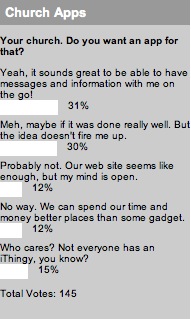 We recently wrote on churches developing iPhone applications. The article spawned some great discussion, and we wanted to know what the Church Marketing Sucks community thought–too techno-centric? A great idea? Something you could care less about?
Well, nearly 60% of you are on board. 31% of you are pumped up, fired up and generally excited (up) about it. You love the idea of keeping your church in your pocket, sharing it with your friends and staying involved in your community that way. Another 30% think it has potential, but it's only good if you can nail the execution and deliver something great.
The other 40% of you aren't so sold on the idea. Of those, 12% are keeping an open mind, but you think just having a workable web site and good product ought to do the trick. An equal number argue that you can spend your time and money more effectively than chasing the winds of technology. And 15% of you are just plain tired of hearing about an app for this and an app for that, and you couldn't care less about an iAnything.
Our own Kevin Hendricks made a great point relating to Twitter that sometimes it seems the church can never win. Either we're pegged as technophiles who are always chasing the latest technology or antediluvians who are ignorant of the world around us.
So it sounds like we'll be going back to some old advice on this one: use only when necessary. It's not a bad thing, and it's not a good thing. If it fits in with your church's strategy, it could be a great thing. If it doesn't, it could be a huge bust.
This week, we want you to let us know: How do you most frequently enjoy your dose of CMS?