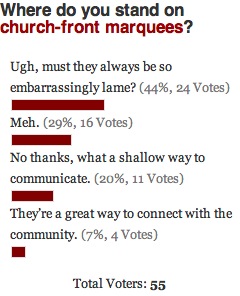 Church marquees are a touchy subject. They always have been. Recently, I spoke with the folks at 100 Huntley Street as part of their report that covered a wide variety of opinions on the clever church-front signs. My hunch was that most of our readers wouldn't look too kindly on marquees, but let's let the survey do the talking:
The biggest chunk of you hang your heads in shame when you pass one. You're irritated that they're always so, so, so lame, and frankly, for those 44% of you, it's a little embarrassing.
Next up are a passionate 29% of respondents who were so fired up about church signs, so unequivocally impassioned, so excited, that they moused over and let their voice be heard: "Meh."
With 73% of precincts reporting, surely the news improves from here on out for church-front marquees, right? Not so fast. Another 20% of you say no because signs for passer-bys are a passive, shallow way to communicate.
Which leaves a lonely 7% of our readers in favor of church signs. You think they're a great way to connect with the community and let the world know what your church stands for.
As always, your favorite church marquee messages are welcomed in the comments. And while you're around, vote in this week's poll: How will your church celebrate this Halloween?