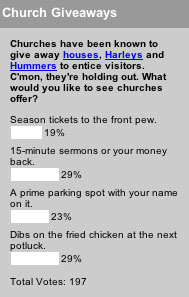 Last week we had a fun poll about church giveaways, asking how to up the ante beyond houses, Harleys and Hummers to some really cool giveaways.
And it's a tie: 15-minute sermons and dibs on the fried chicken shared the top spot with 29%. A prime parking spot was next with 23% and season tickets to the front pew was the least attractive imaginary giveaway with 19%. Apparently the front pew isn't the place to be.
This week we get [slightly] more seriously and ask about those church signs with the clever slogans. Weigh in with your vote now.