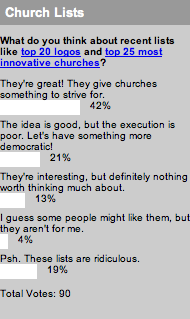 Last week we asked what you thought of recent lists like the top 20 church logos and the 25 most innovative churches. From what we've seen, there are people who hate them and people who love them. So the latest in a long series of lists, we present the top 5 answers to this week's poll:
5. I guess some people might like them, but they aren't for me. Bringing up the bottom of the list is the 4% of you who think they might work for others.
4. They're interesting, but definitely nothing worth thinking much about. 13% of you think that they're fun while they last, but they don't carry too much weight.
3. Psh. These lists are ridiculous. The haters of church lists had a disappointing showing, only coming in third with 19% of the vote.
2. The idea is good, but the execution is poor. Let's have something more democratic! 21% of you want something better. Do you have suggestions in the comments?
1. They're great! They give churches something to strive for. 41% of you are big fans of the lists. We'll keep them coming for you guys.
This week, let us know what your church's plans are for football season. The new poll is up, so be sure to weigh in.