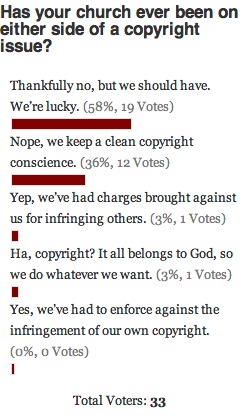 Sometimes you just need a little break from all that caroling and Honeybaked Ham and Christmas joy, so we decided to focus on everyone's favorite Grinch this week: copyright issues. We asked in last week's poll if your church has ever found yourself on either side of a copyright issue. And here are your responses:
The biggest chunk of you, 58%, are thanking Jesus, Santa Claus and anyone else you can find because you ought to have been busted for violating copyrights, but you haven't been. But hey, that's what New Year's Resolutions are for, right? 2011 could be the year you put copyright risks behind you.
Another 36% of folks who responded are doing a great job keeping a clear copyright conscience, and you aren't expecting any cease-and-desist letters in your stocking in a couple of weeks.
After that, there are just a handful of stragglers. 3% of you have had charges brought against you before, and another 3% of you think it all belongs to God, so it's no big deal if you borrow it. We hope both of you are up for changing your ways in the coming year.
This week, we have a simple question: Which marketing direction does your church lean towards? The answers are easy and simple, so head to our home page and let your voice be heard.