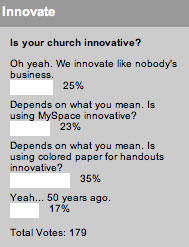 To go along with our Innovative Church series we opted to do a little poll to find out how innovative your church is. The results are not that encouraging.
The majority (35%) went for "Depends on what you mean. Is using colored paper for handouts innovative?"–which, in case you were wondering, is not very innovative. Thankfully 25% said their church innovates like nobody's business. Closely followed by those who asked if using MySpace was innovative (23%), which is fairly innovative (it's not ground-breaking and mind-shattering, but it's pretty with it). A depressingly-high 17% said their church would be innovative 50 years ago.
This week we turn to the innovation of blogging with a resurrected poll. We first asked the question a little more than a year ago, so it will be interesting to see how that's changed. It's also quite timely, considering the book The Blogging Church came out earlier this month (a book CMS just happens to be mentioned in).