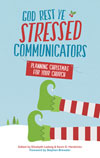 It's Christmas in July! You've got a full six months until Christmas, but now is the time to start planning. This month we're going to talk about Christmas planning. For more Christmas help, check out our church Christmas ideas or our book, God Rest Ye Stressed Communicators: Planning Christmas for Your Church.
Last fall our editor, Kevin D. Hendricks (hey, that's me!), appeared on the Small Church Leadership Podcast with Darin Graham to talk about Christmas.
When Should We Start Planning?
"Church communicators are so busy, I don't think you can start too early. Why not get it done early and have time to tweak or adjust and not panic?"
What's Advent?
"If you've ever had a baby, there's this season of expectation—this nine months where you already know what's going to happen but you have to wait for it to get it here. It's not time to celebrate yet, the baby isn't here and we can't bust out cigars. Sadly, sometimes things go wrong with pregnancy. You're in this uneasy, it's coming but not yet, and you're waiting and it's exciting. That's kind of what Advent is, this season of pregnancy. … It's an alternative to the culture's overdose of Christmas. …That's what Advent is about, it's this pregnant hope."
How Can Advent Benefit Small Churches?
"For smaller churches, Advent can be a template for how to approach Christmas. Maybe you don't do liturgy, but there's the advent wreath and a ceremony you can do. There's this idea of not going overboard for Christmas, and that certainly plays into the wheelhouse of small churches. And not doing it because you don't have the resources, but because everybody's so stressed in December trying to get ready for Christmas and church can be a place of refuge from that."
Be True to Who You Are as a Church
"Even though it's Christmas and you're trying to do more, you need to be yourself."
Reaching Those Who Won't Come Back
"There are people who might show up at Christmas who will never come back. Is there something you can offer them?"
Don't Compete
"Most of our churches can't go toe-to-toe with culture on big production. We're just not going to be able to compete, and we shouldn't be trying to compete. So if you can avoid that mistake of thinking Christmas has to be huge, and instead focus on the reality of Christmas."
Keep it Simple
"If there's anything you do at Christmas, just reading the gospel story straight out of the Bible is so simple and wonderful and powerful."
Take Care of Yourself
"One of the problems we have as church leaders and communicators and staff is everything gets so crazy and we try to do too much. It's easy for church staff to not take care of themselves, and then you get tired and exhausted and cranky. And that's not a good way to approach the story of Jesus. You don't want to get burned out and be cynical about the whole thing. Have healthy boundaries, plan early and don't put things off, work the appropriate number of hours, find volunteers to delegate to, find ways to not feel like you have to do everything yourself, that can make for a healthier experience for you, and then you can more genuinely and authentically minister to people. You're not at the end of the rope and you still have a wealth of blessing to pour out on people."
More: