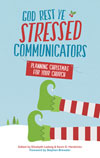 It's Christmas in July! You've got a full five months until Christmas, but now is the time to think about promoting Christmas. This month we're going to talk about Christmas planning. For more Christmas help, check out our church Christmas ideas or our book, God Rest Ye Stressed Communicators: Planning Christmas for Your Church.
What do you think is the most effective way for churches to promote Christmas?
We asked five church communicators about promoting Christmas. Every one of them talked about the power of word of mouth.
Make it Easy
Carrie Evans, communications director at Southbridge Fellowship in Raleigh, N.C.:
Word of mouth. Other than Easter, Christmas is still the best time of year to invite guests because people are looking for a place to worship. Make it easy by providing tools (social media graphics, videos, invite cards) that people can use as a platform to invite. The tools should be there to support the personal invite.
Equip People to Invite
Crystal Kirkman, communications director at First Christian Church in Decatur, Ill.:
The most effective way for the church to promote Christmas is using grass roots methods. It's all about your own church members inviting friends, family, co-workers, neighbors, etc. So then the focus becomes, "How can we equip our people so they are prepared to invite others?" Of course, we do some community promotion through social media, the newspaper, etc., but that's simply for awareness. The more a person is reminded of our church to confirm their invitation, the higher the chance that our church will be on the forefront of their mind.
Easy Ticketing
Kenny Jahng, online pastor at Liquid Church in New Jersey:
There are so many great ways to promote a Christmas service. But strategically, you want to ensure your messaging is done in a way that makes it as easy as possible for your congregation to share and invite their friends, family, co-workers, teachers, etc.
One approach our church has taken over recent years has been to issue tickets online (free) for all of our services and locations. It helps with attendance planning (we'll stop offering tickets for a particular service time once we know we'll be at seating capacity for a given service), but it also provides something that non-church goers can relate to regarding an event they're planning to attend. Printable tickets also gives people something tangible to put on their fridge or kitchen family bulletin board.
To help our people talk up the upcoming Christmas service, we also distribute invite cards (doubled-sided large size postcards) with all the service time details and directions a couple of weeks in advance. That way our congregation members can give them out and use them as a talking point. We also don't want to let people's imaginations fill the information gap based on any baggage or negative interactions with churches in the past. Providing clear messaging on a hope-filled theme and what to expect really helps people make the decision to attend.
Ambassadors for Your Church
Meiko Seymour, community life pastor at Pinellas Community Church in St. Petersburg, Fla.:
I've seen billboards, television spots, the gambit. Honestly, the best way is word of mouth (some touch cards wouldn't hurt in this). When people are connected to your church and believe in what you are doing, they want to share it with others. So give people something to rally around. What is it in your Christmas service that will excite people enough to be your ambassadors? That's how I got about it. This happens in planning of the service itself. Not only are we trying to figure out the best way to tell the gospel, but we are also thinking of ways to embed moments that people want to not miss. They'll tell everyone if they too are excited.
Tools to Share Joy
David Hansen, pastor at Spirit of Joy! Lutheran Church in The Woodlands, Texas:
Word of mouth and personal invitation are always the best ways. There are some basics that need to be in place—website having Christmas worship info, print advertisements, etc. And those are important. But ultimately, an invitation from a friend, neighbor or family member is the best way to give new people an opportunity to experience the joy and wonder of our Christmas worship.
Our job is often not to ask "How can we promote our Christmas worship?" but rather to ask "How can we give our community the tools to share their joy and invite others to worship with us?"
More: