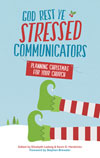 It's Christmas in July! You've got a full five months until Christmas, but now is the time to think about planning Christmas. For more Christmas help, check out our church Christmas ideas or our book, God Rest Ye Stressed Communicators: Planning Christmas for Your Church.
What are some practical things you do to make sure you survive Christmas?
We asked five church communicators about surviving Christmas. Here's what they had to say:
Checking It Twice
Carrie Evans, communications director at Southbridge Fellowship in Raleigh, N.C.:
Pray, read God's Word, listen to my Christmas playlist on Spotify and make sure I check my to-do list twice.
Focus on Why
Crystal Kirkman, communications director at First Christian Church in Decatur, Ill.:
Focus on why we celebrate Christmas rather than the never-ending to-do lists.
Gratitude Journal
Kenny Jahng, online pastor at Liquid Church in New Jersey:
Because our work and vocation will inevitably bring about moments of stress, anxiety, troubleshooting, firefighting and more during the timeline leading up to Christmas, in the past I have kept a gratitude journal starting Thanksgiving up to the New Year. To make it easy and not a time-sink (who has time during Christmas season!), I try to to take 10 minutes at the end of the day to jot something down in these four categories:
Relationships: Someone I interacted with or remembered that day.
Routine: The small things in life we can take for granted.
Real Things: Something we have that is a blessing—vs. making materialistic things we don't have an idol.
Realizations: Quotes I read or hear, epiphanies, life lessons.
It helps me balance things during potentially crazy seasons and you know, as they say—you are the sum of your habits. This year, I've actually created a Typeform survey that will be emailed to me everyday with the four simple questions. I don't have to remind myself, it's easy to fill out no matter where I am and the responses get saved into a spreadsheet I can review later.
Don't Wait to Rest
Meiko Seymour, community life pastor at Pinellas Community Church in St. Petersburg, Fla.:
Plan and strategize early. Pace myself and team. Execute on the plan and rest regularly. I always hate, "we will rest when it's over." That's unhealthy.
Take Care of Yourself
David Hansen, pastor at Spirit of Joy! Lutheran Church in The Woodlands, Texas:
There are some really practical things that I've picked up over the years. My stress often comes out physically in back pain, so I schedule an Advent massage every year. I also make sure to take extra vitamin C to ward off any colds in the season.
In 10 years of ministry, I've found it helpful to make sure that the sermons for Christmas Eve and the two Sundays following are complete before Advent begins. That way I know my themes and can plan and schedule media and promotional materials. It also takes away the stress of thinking about those things.
Finally, the two most important uses of your scheduling and time: family and feeding your faith. I work (not always successfully) to take extra time to be with my family in December. I will get too busy for some of it, so I make sure I have extra scheduled. And take extra time for your prayer life in Advent. If I am spiritually exhausted, I don't have anything to give to my ministry.
More: