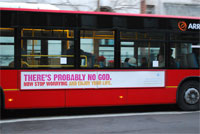 You might remember St. Matthew-in-the-City from their Mary and Joseph billboard a few months back. They're making headlines again, but this time, I'm a little more sold on what they're doing. Here's the jist:
Recently, there was an advertising campaign in New Zealand for atheism. The ads, displayed on buses, read, "There's probably no God. Now stop worrying and enjoy your life." New Zealand Bus got some complaints on the campaign, and they ended up taking the advertisements down.
Enter Archdeacon Glynn Cardy:
Archdeacon Glynn Cardy, vicar of St Matthew-in-the-City in Auckland, says NZ Bus's decision last month to stop the display of paid adverts showing atheistic slogans is regrettable.

"Many in the Christian community welcome a debate about issues of the existence of God and, also, I don't think there's anything to be afraid of in that debate," he said.

You might be thinking, "Whoa, hold on a minute. The buses pulled the ads. Christians win. Right?" Wrong.
Cardy has a great point here, and it's one that we'd do well to heed as believers in our local communities. I see three great nuggets of truth for local churches to pull out of his response to the pulling of these ads:
We're not the only ones who get to play. Too often, we have an "I'm going to take my ball and go home" mentality when things don't seem to go our way. But it's important to remember that just like we can advertise and communicate our ideas, so can anyone else. (And all the more reason not to suck at it.)
Support those you hope to reach. You'll get a lot further in affirming and connecting with people unlike yourself if you support them. You don't have to agree with them or adopt their theology, but you should affirm their right to speech and opinion.
Don't be afraid of hard discussions. Topics like the existence of God and the virgin birth are admittedly difficult. We hold them very dearly, and it's easy to feel attacked when someone challenges the ideas we hold dear. But we should be confident as we communicate those issues and communicate that confidence to those around us.
Maybe as we grab on to each of these, we'll engage in deeper, more influential discussions with the community around us. Especially those who don't believe the same things as we do.
(Photo credit: Jon Worth / British Humanist Association)