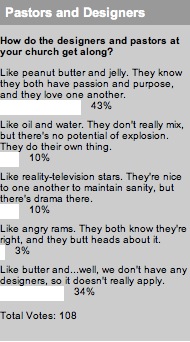 Erik Germesin recently wrote a gap-bridging piece for pastors and designers. It's no secret that pastors can find designers to be troublesome to work with, and vice-versa. For whatever reason, these two groups just don't always seem to gel. We were curious as to how the pastors and designers that you know play together.
The biggest group, pleasingly, are the 43% of you who have pastors and designers who go above and beyond to understand one another and work together. Your designer doesn't go crazy when the pastor suggests Comic Sans, and your pastor doesn't lose his cool when the designer cries over a rejected design.
Another 10% play nice, but there's some serious animosity going on there. They're all smiles and back-pats around the office, but you know they absolutely dread and loathe when things go from office-to-office. Another group of the same size don't really work well together, but they keep to themselves.
A little, tiny 3% of you have pastors and designers that go at one another angrily. Women and children can't come to the office, and there's likely to be prayers for repentance after they deal with one another.
So who's left? Oh, there you are. 34% of you don't have any designers, so it doesn't matter. Maybe you're not part of a church, you're part of a church who doesn't do any designed materials or you just have one of those administrative assistant/designers. (Although hopefully not the latter.)
This week, we're getting in the spirit of Lent and asking: Which events in the Lent calendar does your church traditionally observe and market?