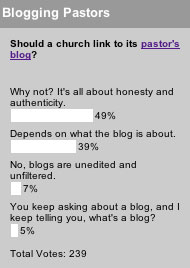 Last week we asked whether or not a church should link to its pastor's blog, playing off a post from a few months back over a church that opted not to link to their youth pastor's blog.
49% were all for linking to a pastor's blog and 39% said it depends on what the blog is about. Only 7% said an outright no.
Speaking of blogging pastors and blogging churches, the Episcopal Diocese of Washington has started the Blog of Daniel, a blog to respond to the new NBC show The Book of Daniel which focuses on an Episcopal priest. It's an interesting application of this question.
This week we're asking if non-Christians can do church marketing.