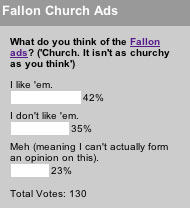 Last month we talked about some interesting church ads coming out of the UK, and one of those ads was created by the international agency Fallon. Last week we asked what you thought of those ads, and the results were fairly mixed.
42% liked them, but a combined 58% were indifferent or didn't like the ads. Apparently marketing the church isn't so easy, even for the mainstream professionals.
Don't forget to check out this week's poll where we ask who does the marketing work at your church: staff members, volunteers or an outside company.