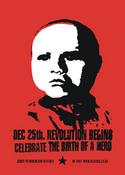 There's an odd flux of church advertising in the UK making the news this week, from secular firm Fallon to the Alpha program to Che Guevara.
Che Guevara
The Churches Advertising Network (CAN) released their 2005 Christmas campaign, complete with Che Guevara-like poster and radio spots. The goal behind the Guevara poster is to show a powerful Christ and dispel the idea of Jesus as a "wimp in a white nightie." CAN has been doing ads since 1991 and you can check out the archive on their site for some edgy ideas (What would love do now?, Christians make better lovers, etc.).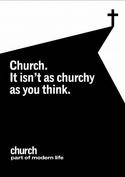 Fallon
Then the producers of a TV documentary asked international ad agency Fallon to come up with a campaign to reignite interest in the Church of England. The simple black and white ads tout slogans like:
"Church. It isn't as churchy as you think."
"More dances are held in church halls than dance halls. And yes, the lord does move in mysterious ways."
"Apparently there's stuff going on here all week. Even Sundays."
"Why go to India to find yourself? You might be just round the corner."
"The church educates millions of children. 'And not in a what does Psalm 17 tell us' kind of way."
The ads were supposedly sent to 50 Anglican bishops in the UK and their initial response was positive. But since the ads were created for a TV show and not commissioned by the Church of England there's no indication if the ads will actually be used.
Alpha
Finally, cinema ads featuring mountaineer Bear Grylls, Portsmouth soccer player Linvoy Primus and model Kim Johnson invite moviegoers to Alpha, a course that introduces people to Christianity. The ad campaign has each of the three UK pop icons asking, "Is there more to life than this?"