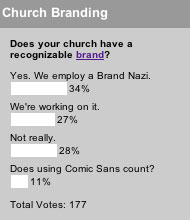 In last week's poll we asked if churches had a recognizable brand. 66% didn't have one, though 27% are working on it.
I guess I should expect churches to be out to lunch on this one, though a brand seems like such a no-brainer. It makes everything else easier because you already have a logo and a specific look and feel. You don't have to come up with something new all the time. On the plus side, 34% of churches claim they do have a recognizable brand. At least some of them are getting it.
This week's poll asks what's working to bring visitors to church. The early leader, not surprisingly, is word of mouth invites with 64%. And yes, we did notice that we put special events in twice (there's special events and then there's special events). Oops. By the time we noticed the mistake 35 people had already voted and our software forces us to delete all responses if you want to edit the question. I figured I'd rather look dumb and keep those 35 responses—it's not their fault I'm a little slow this week.