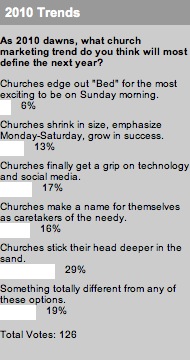 We're well aware our readers are a wise and thoughtful bunch, so this week we asked your thoughts on what 2010 would hold for churches. Your response was a bit… disheartening. But we'll get to that in a bit. We'll start from the bottom.
Our biggest loser? 6% of you think the biggest news of 2010 will be church beating "Bed" for the best place to be on Sunday mornings. Hopefully the rest of you already have a church better than your bed.
Next up, 13% of respondents see churches shrinking this year and finding new types of success. Which is just a shade behind the next two groups. 16% of our readers think this will be the year churches really define themselves as caretakers of the needy. And 17% of you believe this year churches will finally get a grip on social media.
Our big winner? Eek! 29% of you believe this will go down as the year churches stick their head further in the sand. That's a bummer, and we hope with all our hope that 2010 is remembered as the year our readers were wrong.
So, 19% of you who said "something totally different," let's hear it in the comments. When all is said and done, how will we remember 2010?
And this week we're asking: What's your opinion on churches asking for money at year's end?