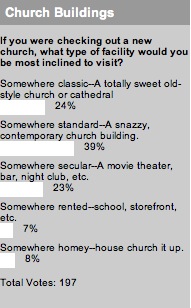 There are a thousand different types of buildings where church is being held: theaters, schools, cathedrals, strip malls and more. But do any of them have an inherent advantage over any other? When a friend asks you to church, is there any sort of building that would make you more inclined to show up?
39% of you would feel most comfortable checking in to a contemporary church building. Something snazzy and contemporary that feels like an American church to you.
Next up, 24% of you are more likely to visit somewhere that feels historically significant. Whether you have an interest in architecture or connecting with tradition, I don't know, but you'd like to go to church in an older building.
That barely beat out a secular option–you know, a bar or a night club or something to that effect. 23% of you would go that route given the option.
A realtively-small 8% of you would prefer a house church, while 7% of you would prefer to spend your time somewhere rented on Sunday mornings.
This week, want to know about moderation in your church: How much should churches moderate how individuals use their online resources and offerings? (Facebook, blog comments, Internet usage, etc.)