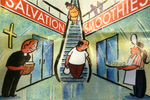 The September 14 print edition of Fortune magazine had an article (no link) by Beth Kowitt on how mall owners have been thinking "outside of the (big) box" when it comes to finding traditional retailers to anchor and inhabit their monstrous consumer jungles.
For malls that are struggling to retain consistent tenants, they are looking to creative ways to fill their space and ultimately attract more crowds. The old idiom of a "rising tide floats all boats" is how malls live and breathe. One of their solutions?
Churches.
According to the article, at least 63 churches have moved into malls in the second quarter of 2009 alone, according to CoStar Group.
In general, I'm not a fan of churches building their own campuses, so this idea of tapping into real estate that already exists makes a lot of sense. It's not new. Churches meet in community centers, schools and theaters every week.
The idea of meeting in a shopping mall does add more dimension to the experience, both good and bad. On one hand, the association doesn't help the cause to distance consumerism from Christianity. On the other hand, it's a great way to make a church community very accessible (known location, parking, food court, etc.)